Scheduling a Vet Appointment for Pet Travel Certificates
Are you planning a journey with your four-legged companion? If you're one of the over 90.5 million U.S. households with a beloved pet, you're likely considering how to ensure their safe and comfortable travel.
Whether your adventure takes you domestically or internationally, fulfilling vaccination and testing requirements as well as obtaining the necessary health certificates for your pet are crucial steps in your travel preparation.
In this guide, brought to you in collaboration with FlyWithMyPet and BetterVet's Dr. Laura Fontana, a licensed, accredited veterinarian with a wealth of experience, we'll walk you through the comprehensive process of scheduling the necessary series of veterinary appointments for issuing your pet's health travel certificates.
But first, let's run through why an in-home vet appointment makes the most sense when starting the process of obtaining your pet's travel certificate.
Benefits of In-Home Vet Appointments for Travel Certificates
Dr. Fontana highlights several benefits of opting for in-home vet appointments when obtaining travel certificates for your pet:
Convenience: In-home visits eliminate the stress of transporting your pet to a veterinary clinic, especially if your pet tends to get anxious or stressed during car rides.
Familiar Environment: Pets often feel more at ease in their own environment. An in-home exam can help reduce their stress levels and result in a more accurate assessment of their health.
Personalized Care: In-home vet visits allow for one-on-one interactions between your pet and the veterinarian, fostering a comfortable and personalized experience.
Accurate Assessment: Conducting the final examination closer to the travel date ensures that your pet's care is up-to-date and aligns with travel requirements.
To make this easy for pet owners, BetterVet provides in-home veterinary services across the United States. Now you can get your pet checked at home and virtually while getting your trip in order, making the process faster, simpler, and more convenient.
Documents to Have Ready for the Pet Health Travel Appointment
As you embark on the journey of traveling with your pet, several key aspects come into play. Dr. Fontana, emphasizes the importance of specific veterinary documents, records, and information to ensure your pet's health and compliance with travel requirements.
These include the following:
Vaccination History: Proof of current rabies vaccination, provided as a signed rabies certificate, is a common requirement for both domestic and international health certificates.
Medical Records: Comprehensive medical records including additional vaccination history, microchip implantation date as well as flea, tick, and heartworm preventive history. Lapsed vaccines or unknown vaccination history may result in several appointments leading up to the appointment for health certificate issuance.
Travel-Specific Blood Testing Results: Some countries require pets to undergo specific blood tests (rabies titer testing) several months before travel.
APHIS: For international travel, the USDA's Animal and Plant Health Inspection Service (APHIS) provides crucial information on the health requirements for entering various countries.
Airline Specific Requirements: Airlines may have additional requirements beyond those of the destination country or state, so contacting the airline to inquire is essential.
Supplemental International Health Certificates: If a pet has a layover in a different country, multiple health certificates may be required and incur additional fees.
To review medical records and documentation as outlined above, a virtual appointment is best. From there, the necessary appointments will be scheduled. This process usually starts 1 to 2 months in advance of your trip, although doing so prior to that timeframe is advantageous.
Veterinary Appointment Process to Travel with Pets
In the following sections, we'll delve deeper into the step-by-step process of obtaining the necessary health travel certificates for your pet, making your travel experience smoother and more enjoyable.
Here's the BetterVet process for obtaining your pet travel health certificates:
Appointment #1: Virtual Vet Visit
Dr. Fontana recommends initiating the health certification process with a virtual vet visit. This step allows you to review your pet's destination requirements, vaccination history, and medication records. It's an opportunity to discuss any additional services your pet may need to fulfill the travel requirements of your destination.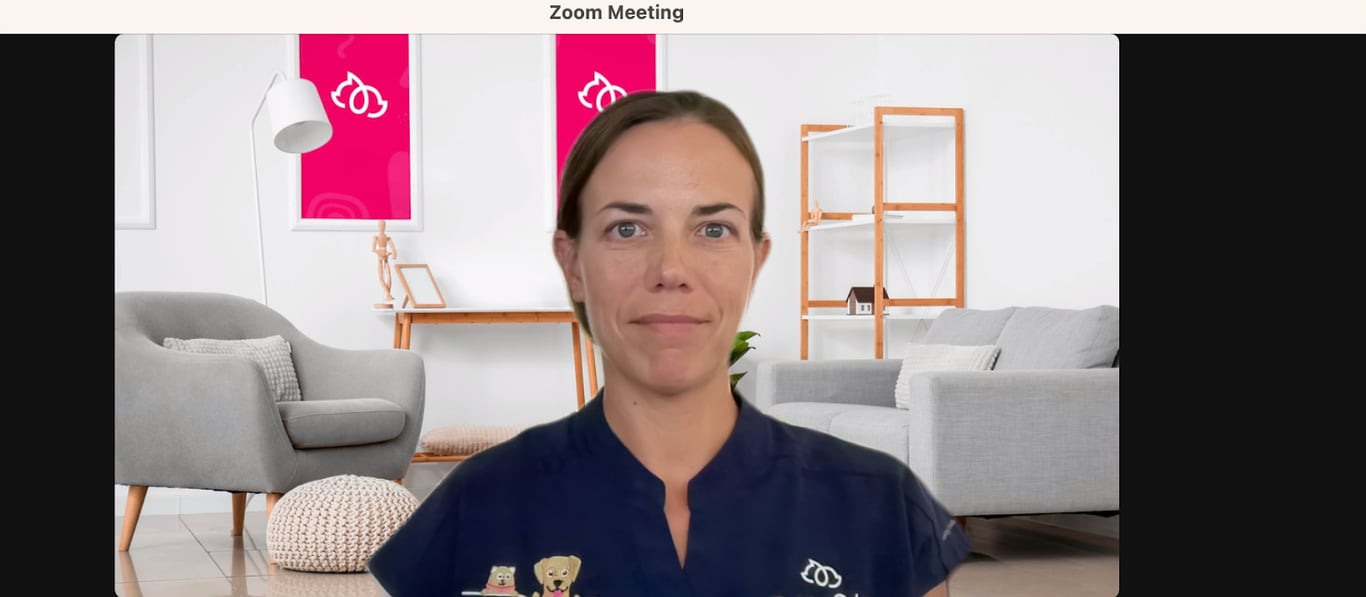 Dr. Fontana during a virtual vet visit with a client regarding pet travel certificates.
Once you've had your virtual vet visit and reviewed your pet's travel requirements, it's time to move on to the next crucial step: the in-home wellness exam.
Appointment #2: In-home Wellness Exam
During the in-home wellness exam, your licensed veterinarian will perform a thorough physical exam, assessing your pet's overall health and addressing any concerns. This exam also provides the opportunity to administer necessary vaccinations that may be required for travel. Dr. Fontana outlines some key aspects of this step:
Required Vaccinations: Depending on your destination and the specific travel requirements, your veterinarian may administer core and lifestyle-based vaccinations to ensure your pet is adequately protected against common diseases. These vaccinations could include DHPP (Distemper, Hepatitis, Parainfluenza, and Parvovirus), Bordetella, Leptospirosis for dogs, and FVRCP (Viral Rhinotracheitis, Calicivirus, and Panleukopenia), Leukemia Virus for cats.
Boosters and Health Checks: If your pet hasn't previously received certain vaccinations or if their vaccinations have lapsed, boosters may be necessary. Your veterinarian will determine the appropriate vaccinations based on your pet's medical history and travel requirements.
Microchipping: Many international travel destinations require pets to be microchipped for identification purposes. If your pet isn't already microchipped, this is essential to ensure their safe travel.
Comprehensive Health Assessment: The in-home wellness exam provides an opportunity for your veterinarian to thoroughly examine your pet's health, identifying any potential issues that could affect their travel. This exam covers everything from your pet's physical condition to their overall wellness.
By completing this in-home wellness exam and addressing any required vaccinations, you're taking a proactive approach to ensuring your pet's health and well-being during their travel journey.
Now you can schedule the final appointment to obtain your pet travel certificate.
Appointment #3: Home Visit for a Valid Health Certificate
As your departure date approaches and your pet's health and vaccinations are in order, the next step is to schedule a home visit for the issuance of the health certificate. This visit is the culmination of the preparation process to ensure your pet meets all necessary requirements for safe travel.
During this home visit, your veterinarian will conduct a final examination to verify that your pet is in good health and fit for travel. Examination of your pet and health certificate issuance most often take place within 10 days of departure. However, for some destinations, the examination and health certificate are valid for longer than 10 days.
This visit is also an opportunity to review and confirm the documentation necessary for health certificate endorsement and also ensure you are traveling with hard copies of the required documentation.
You should now have your pet travel certificate and be ready to travel with your furry companion!
Conclusion
Obtaining health certificates for your pet involves a comprehensive process that requires careful planning, veterinary expertise, and adherence to destination-specific regulations. Thanks to the collaboration between BetterVet, FlyWithMyPet.com, and the insights provided by Dr. Laura Fontana, pet owners can navigate this process with confidence.
From scheduling a virtual vet visit to ensure you're well-prepared, to completing in-home visit(s) to obtain the necessary services and documentation, every step contributes to a safe and seamless travel experience for you and your furry companion. Remember that airlines and destination countries may have unique requirements, so thorough research and consultation are key.
At BetterVet, we understand the importance of your pet's well-being during travel. Our mobile veterinary services aim to make the process more convenient and comfortable for both pets and pet parents. With the right guidance and proactive veterinary care, you can embark on your travel adventure knowing that your furry friend's health is in capable hands. Safe travels!
About the author